Consistency Without Operator Intervention
Norland utilizes automated technology to deliver efficient workflow and accurate studies without methodological error.
Automatic ROI setting eliminates operator intervention.
Intelligent edge detection streamlines post scan analysis.
Dynamic Filtration automatically adjusts the radiation dose based on tissue thickness, eliminating issues associated with saturation or starvation.
Noise free X-ray detectors for optimized detection.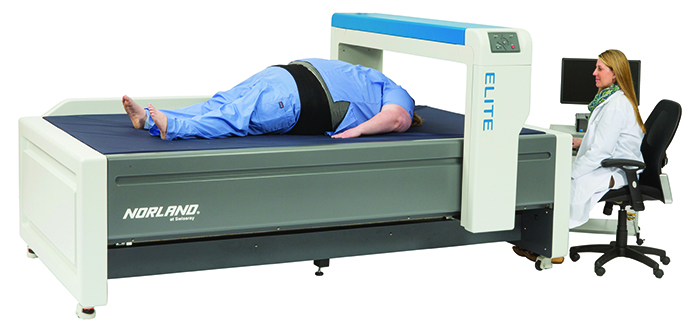 Lowest Radiation Dose in DXA*
Competitor
One
Competitor
Two
Norland
XR-800
Norland
Elite
Radiation Dose
6.0μSv
8.0μSv
0.2μSv
0.2μSv
Scans equal to one
chest X-ray
16.6
12.5
500
500
Norland's unique Dynamic Filtration process ensures minimal subject radiation dose by adjusting X-ray flux based on tissue thickness.
Norland systems eliminate detectable beam scatter allowing shortest operating distance in the industry.
*Radiation Protection Dosimetry, 177:228,2005